Kids & Birds
Kids & Birds is an environmental education program for students in grades one through nine.
Since 2012, CCFC in partnership with Cornell Lab of Ornithology has been teaching kids about birds. This program focuses on schools within two Important Bird Areas (IBAs) in the cloud forest region of the central highlands. Kids & Birds uses Cornell's BirdSleuth curriculum, a ten lesson unit which introduces kids to biology through birds, understanding habitat, and conservation.
In the beginning CCFC sent instructors to the remote mountain villages. This we found to be expensive for the amount of contact with the students. Our teachers would take a whole day or sometimes a day and a half to get to and from from the school all for an hour of teaching. This trek needed to be made 10 times to cover the ten lessons over ten weeks.
In 2013 CCFC began to invite sixth graders from these same village primary schools to come to CCFC's agroecology center for a four day workshop. These school visits allow CCFC to do a lot more with the students beyond the ten lessons of BirdSleuth. Kids & Birds also offers lessons in stream ecology, agroecology, bio-acoustic recordings, and art.
Thanks to the support of Cornell Lab of Ornithology, students learn about bird sounds (and bio-acoustic in general) as a part of their Kids & Birds experience with a powerful, interactive computer program called Raven Exhibit. Raven Exhibit allows students to see images and hear sounds of a specific species, visualize sounds and a lot of other fun stuff.
Opening up the natural world to sixth graders is like opening up an enormous book with big pictures and small details. Kids & Birds get sixth graders into so much more than just birds.
Kids & Birds: Opening eyes to the amazing world around us.
This program helps sixth graders develop an eye of appreciation for the world of living things.
Kids & Birds: Opening eyes to the amazing world around us. This program helps 6th graders develop an eye of appreciation for the world of living things.
Caveat: Kids & Birds generally invites sixth graders to participate. Generally they arrive on Monday morning and leave on Thursday after lunch. Sometimes, with a very small school, we will invite the fifth and sixth grades, or we will invite sixth graders from two or three schools to come together.
Recent Updates
Kids & Birds ready for take off
-
As we look toward 2018, we are especially excited about the Kids & Birds program. Schools will start arriving the last week of January. Our goal for 2018 is to have 1,200 sixth graders from January to September of 2018. We need your help. Please contribute to Kids & Birds 2018 and help us reach our goal of having 1,200 - continue reading...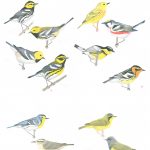 migratory bird coloring book, coming soon
-
As an addition to our tool chest in Artful Eyes, CCFC is pleased to announce that before October 25th, we will be printing a coloring book of migratory birds. CCFC's artist in residence, Savannah Aldrich, has been hard at work preparing a nine page coloring book of wood warblers. The species selected in this coloring book are all species that - continue reading...