The Build and Beyond Capital Campaign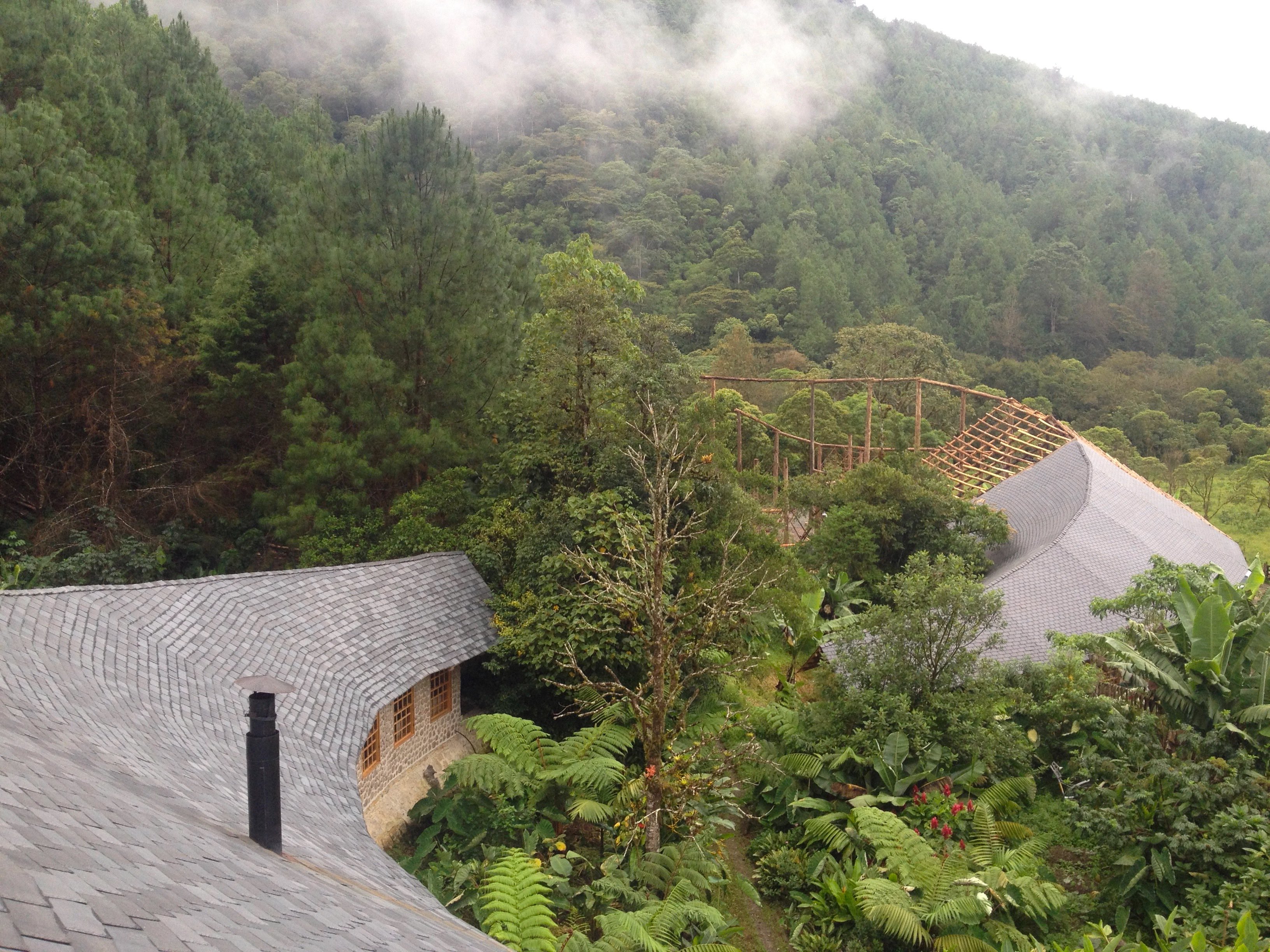 The Build and Beyond Capital Campaign is now focusing on our final challenge, to finish the biggest and final building of CCFC's agroecology center. Between July 1 and December 31, 2016, CCFC is seeking to raise $80,000, or half our total goal. Of this $80,000, over half is directed to construction labor costs. Our team of competent workers come from the same remote mountain villages that CCFC serves and all of them earn a fair and living wage. Our workers have been with us for several years and have learned how a building like this fits together. We are fortunate to have the team of workers that we have. Their experience means that the work can move forward efficiently and effectively. The other half of the $80,000 is needed for building materials.
Our intermediary goal was to have the dorm space at the "tail" of the building in use by October 25, 2016, when we received the students of our first WALC session. This goal we managed to achieve with less than one day to spare. Our production kitchen, while not yet finished in every aspect was at least finished enough to use. Broomhilda our German bread oven (a near replica of a turn of the century oven made by German coffee growers from Coban) is now in place, freshly repainted and fired up for bread baking.
Contributing toward the processing center is truly the gift that keeps on giving. The processing center will make CCFC's education programs more financially self sufficient in the long term. CCFC students add value to cloud forest products and retail sales support their own education and scholarships. Items that the young women currently produce include a variety of jams, chili, and candles.
CCFC thanks you for making phase 1 of the Build and Beyond Capital Campaign a success. The first building is entirely operational and finished down to the last details. On October 25, 2015, 75 young women moved into the building to take part in CCFC's 25-day WALC session. Twenty six days later, a new group of young women, this time 94 of them, moved in to the same space. Since February 1, 2016, sixth graders from tiny remote mountain schools have used the building on a weekly basis. Clearly the investment is paying off and CCFC is taking full advantage of this wonderful resource.​
Since 2008, CCFC has been holding workshops in a tiny thatch house and a remodeled hog barn. Both the thatch house and the barn were nice enough but it soon became clear that we needed a larger facility as the programs were growing and space was tight.
In July of 2012, CCFC broke ground on a massive undertaking. In one year, we built three bathroom facilities, a new water catchment, a guard house, and laid the foundations for two massive structures affectionately known as Building A and Building B by the architects, but soon nicknamed "Small Quetzal and Big Quetzal" due to the swooping shape of the two buildings.
In January 2015, CCFC began hosting students in the "Small Quetzal" even though the kitchen was not finished. In 2015, CCFC is hosting 4th, 5th and 6th graders from 30 primary schools from tiny villages that border the cloud forests of the region.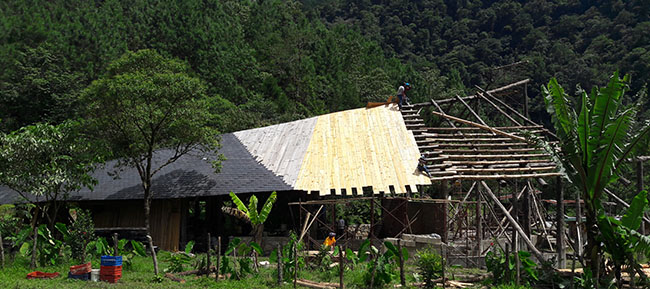 Current project underway, photo from June 2016 shows progress on roof.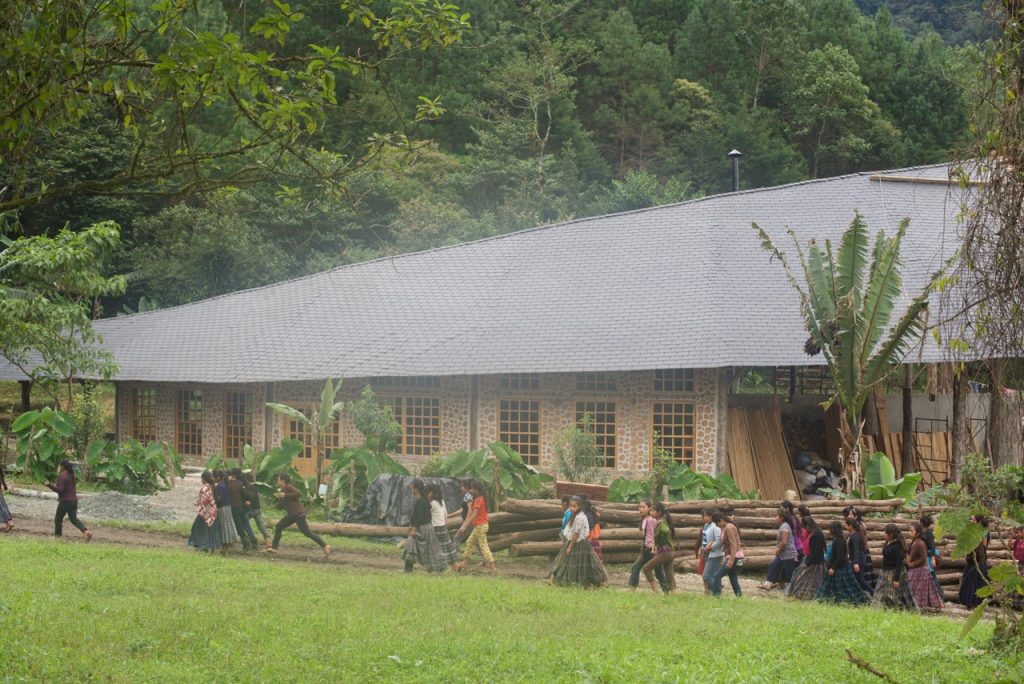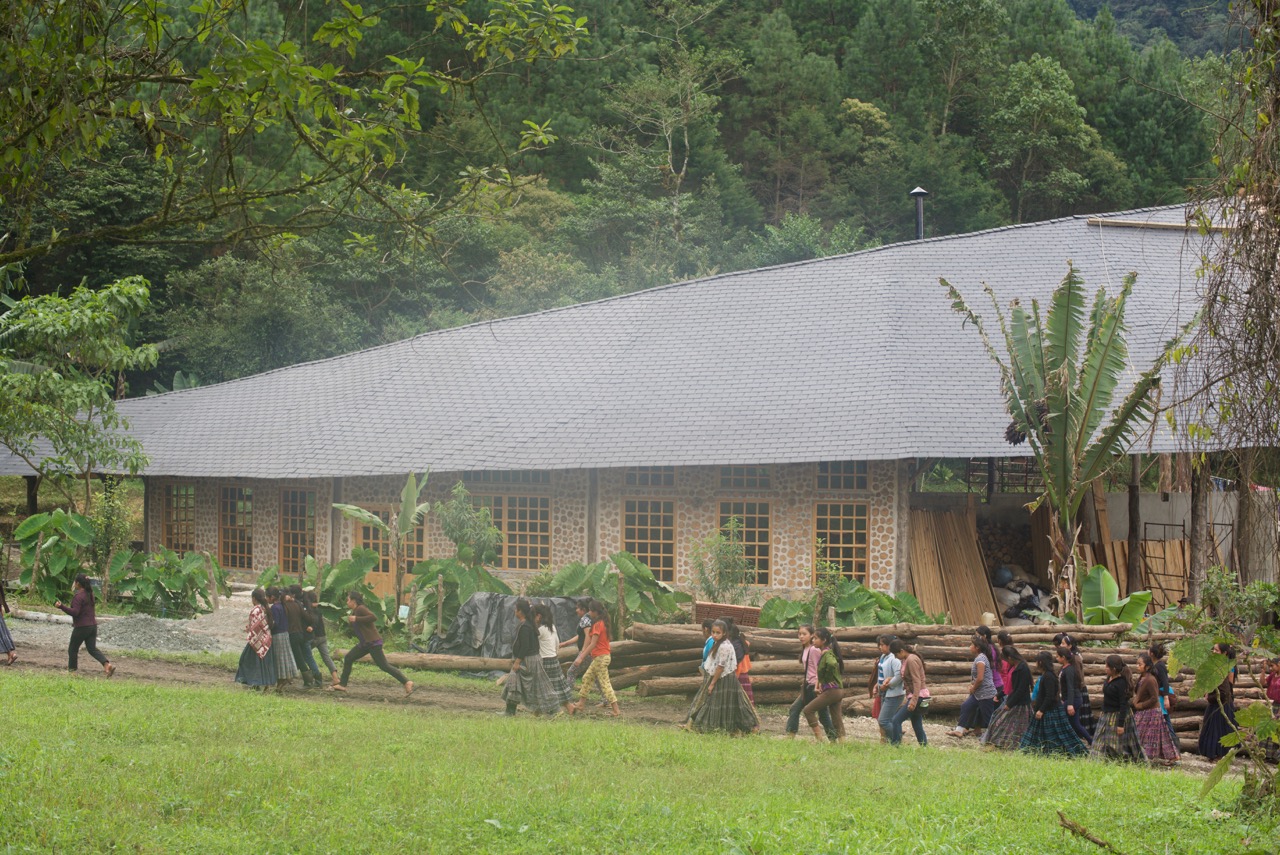 Photo from October 2016. By the time our WALC students arrived on October 23rd this building was ready to house 40 participants.

At the ecology center, CCFC's number one priority in construction is sustainability and minimal environmental impact. CCFC strives to find ecologically friendly building methods that utilize locally available materials. Both the Small and Big Quetzal structures are post and beam construction. Almost all of the wood for these buildings was harvested from the center's campus. Non-native eucalyptus trees were used for the posts and beams. For each tree harvested CCFC has planted 20 native trees.
Cordwood construction allows us to utilize wood that would otherwise be too small to cut into a 2×4 or to saw into a board. Cordwood also provides a good R-factor which helps moderate the temperature of the building both in winter and in summer.
The roof shingles are made of 100% post manufacturer discarded rubber and plastic from the automotive industry in the U.S. and Canada. These shingles are made to last and they help keep tires and other non biodegradable materials out of the landfills.
All CCFC's buildings are powered by green energy. Small solar units light the thatch house and large solar units power 5w light bulbs throughout the Small Quetzal. However, our newest form of green energy is about to go online. A micro-hydro unit so small that hydrologists call it a chico-hydro unit. This generator will produce 1.2 Kw of electricity per hour during the rainy season and 0.8 Kw during the dry season. The good news is that Cobán's dry season is normally about eight weeks long. A big CCFC thank you goes out to students at the University of Mary Washington who raised the funds necessary for the purchase and installation of the chico-hydro system.
Take a tour of the Small Quetzal with architect Charles Olfert. The Saskatoon architectural firm aodbt architecture + interior design is responsible for the amazing design of these buildings. Their pro bono work has been a huge contribution to this project. The tail of the Big Quetzal will soon be in use. Below is a floor plan of the final building. You can help us make this happen by making a donation to the building campaign before October 25, 2016.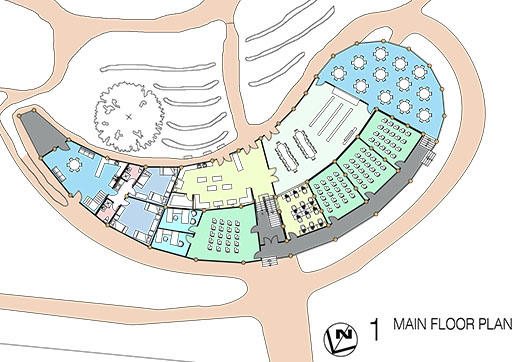 The video clip below is a computer generated image of the plans of the two buildings. Please note that the landscape at CCFC looks nothing like the computer came up with. 😉
Logic
The justification behind this enormous investment is both important and self evident. On the one hand this is an expensive undertaking. Could this money have been used for other conservation projects? The fact is that since the very first part of the first of these buildings was under roof, CCFC was already utilizing "at full tilt" the shelter it provided. These buildings allow us to host large groups of WALC students and to house them for their 25 day WALC session. CCFC's permanent presence at this location also has a positive conservation effect. Built on the edge of a horse pasture, the buildings stand at the foot of a series of cloud forests and forest fragments extending to the top of the Xucaneb mountain.
Giving primary and secondary school children a safe and comfortable place to learn (Kids & Birds)…
Giving young women students (who against all odds are valiantly pursuing their dream of an education and at the same time become leaders in their families and villages – WALC) a place learn and grow…
Giving Q'eqchi' Maya agriculture a center for learning, dialogue, and heirloom crop propagation / multiplication…
Creating a production center for adding value to products coming from the tiny mountain villages and giving these farmers direct access to markets…
These are objectives that justify themselves. The logic behind this project is straight forward.
WALC students learning to make jam. One of the many uses of CCFC's amazing center and four more justifications for why we built it.
Recent Updates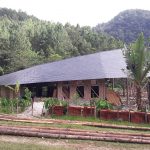 Big Push as Deadline Approaches
-
Workers are going full steam ahead to get the tail of the new building ready for the first WALC session which begins on October 24. Our goal is to have this space ready for dormitory use. We still need to install a few windows and two doors but so far the project is on schedule. Finished patio space at the - continue reading...