CCFC's Campus: a cloud forest paradise and an agroecological treasure trove
CCFC's agroecology center is comprised of four farms. CCFC has access to these lands through very generous contractual agreements with local farm owners, Janeen Simons. Rubel Chaim, the heart of CCFC, is a 330 acre farm with the Mestela' River running through the middle of the property. Along the north border of Rubel Chaim, is a 15 acre strip of land which is part of Finca Chichen. This strip is home to some of CCFC's agroecology parcels and most of the food CCFC serves during its programs comes from this strip of land. Adjacent to Rubel Chaim is a 55 acre parcel of forest and agricultural areas which CCFC uses for agroecology training workshops, gardens, reforestation and cloud forest research. To the north west CCFC has free exclusive access to another 55 acre parcel exclusively for education and research. This parcel is home to several nesting pairs of Ocellated Quail (Cyrtonyx ocellatus). Community Cloud Forest Conservation stands in a debt of deep gratitude to Rubel Chaim owner Janeen Simons for her generous usage agreements and constant support for the work of CCFC. Janeen came to Guatemala in 1983 as a Peace Corp volunteer and has been a force for good in Guatemala ever since working in a wide range of non-governmental organizations since ending her volunteer stint with Peace Corp.
Surrounding all of these properties is the mother farm of which all of these properties were originally a part, Finca Chichen. This historic farm dates back to days of the German coffee barons. Chichen is also home to ancient Maya stone structures (including a ball court) which date back to pre-classic Maya times when Chichen was a large urban center. The toponym "Chichen" derived from the Ch'ol Maya language and means the place of the caves. (Chen = "cave" in Ch'ol.) True to its name, Finca Chichen has two major ceremonial site caves along the Mestela' River. The use of these caves for ceremony dates back into pre-classic Maya history. The caves were still being used as ceremonial sites in the beginning of the colonial period by Ch'ol speaking people who lived in this area at that time.
CCFC's Partnership With Finca Chichen: forests and water rights
With the Chichen farm, CCFC has an access agreement for education and research to an additional 1,630 acres of cloud forest, second growth, agricultural land, and riparian woodland. Finca Chichen extends east from CCFC's center to include parts of the Chilax watershed. The Chilax River flows from the village of Xaliha' to the town of San Juan Chamelco. Chichen's cloud forest along the Saramilcho' mountain ridge is an important recharge area for many springs dotted along the base of the mountain.
In total, Finca Chichen owns the springs that provide water to 32 rural villages. The owners of Chichen have always allowed villages free access to this water. The problem looming in the not too distant future is that these cloud forests are being illegally deforested and some springs have dried up completely. This has been happening while demand for the water has increased sharply due to population growth.
It has been demonstrated in many papers published in scientific journals that cloud forests are important recharge areas for springs. CCFC is now exploring ways to work with both villages and the owners of Finca Chichen to reforest illegally deforested areas and bring back not only the natural forests but also the water.
CCFC's Agroecology Center (main campus) plays an important role in the protection of the Mestela' watershed and local cloud forest fragments. The Mestela' River flows directly from the heart of the Sierra Xucaneb to the city of Cobán. CCFC has won the support of some local land owners for restoration and reforestation of strategic parts of the watershed. Reforestation projects in this area are on CCFC's reforestation waiting list. Sponsor an acre and help CCFC make a difference.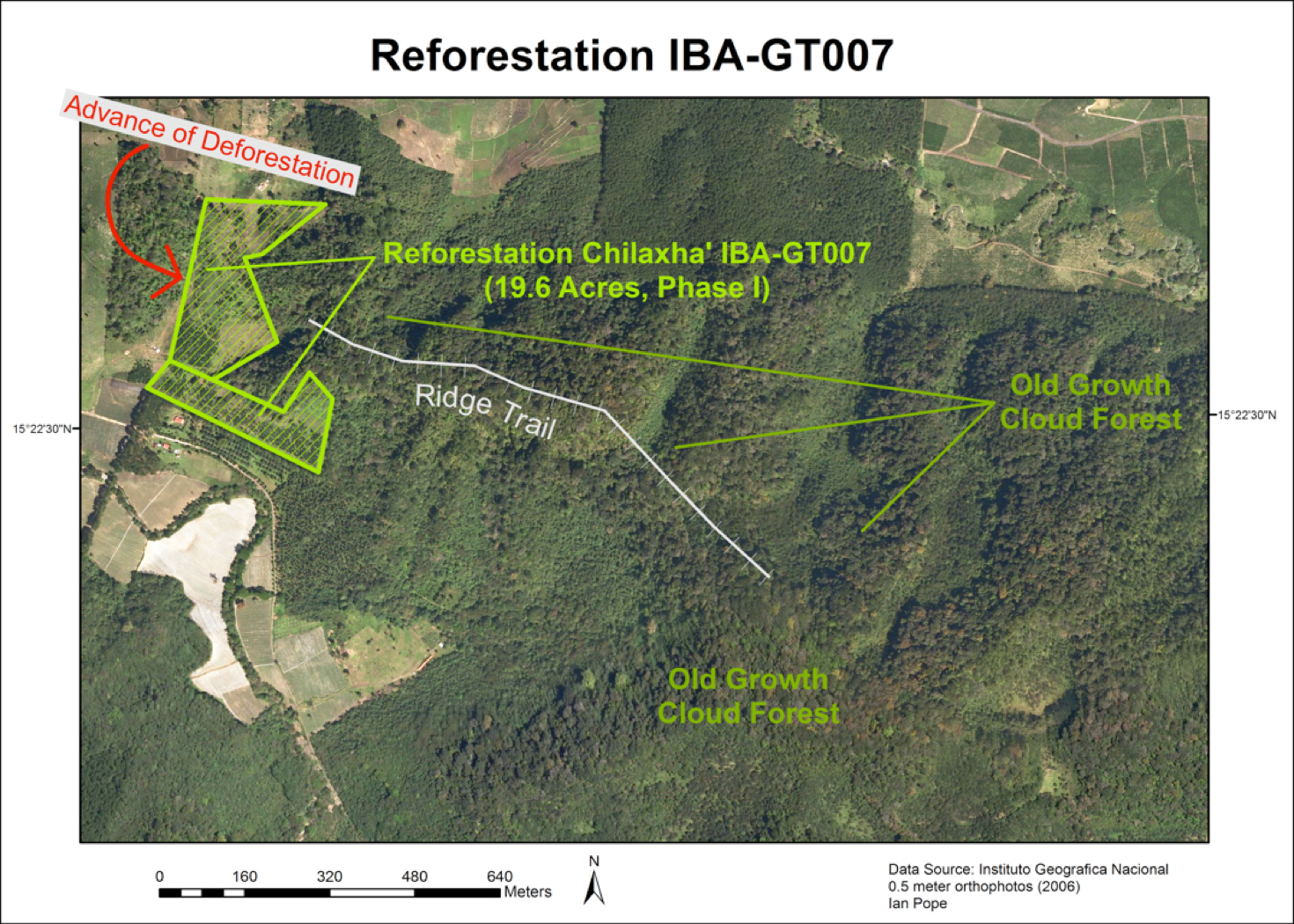 The aerial photo shows CCFC's main agroecology campus with surrounding mountains of the Finca Chichen.
Low elevation cloud forest (i.e. cloud forest below 1,800m) is being destroyed faster than the cloud forest higher up the mountain. Many species migrate altitudinally. The Resplendent Quetzal, as just one of many examples, moves seasonally between 2600m and 900m drawn up and down the altitudinal gradient by the availability of seasonal fruit.
CCFC's agroecology center is strategically located to foster a collaborative conservation effort to protect the cloud forest fragments of CCFC's neighboring villages and farms in the Mestela', Chilax and Rio Oro Verde watersheds.
Recent eBird Sightings